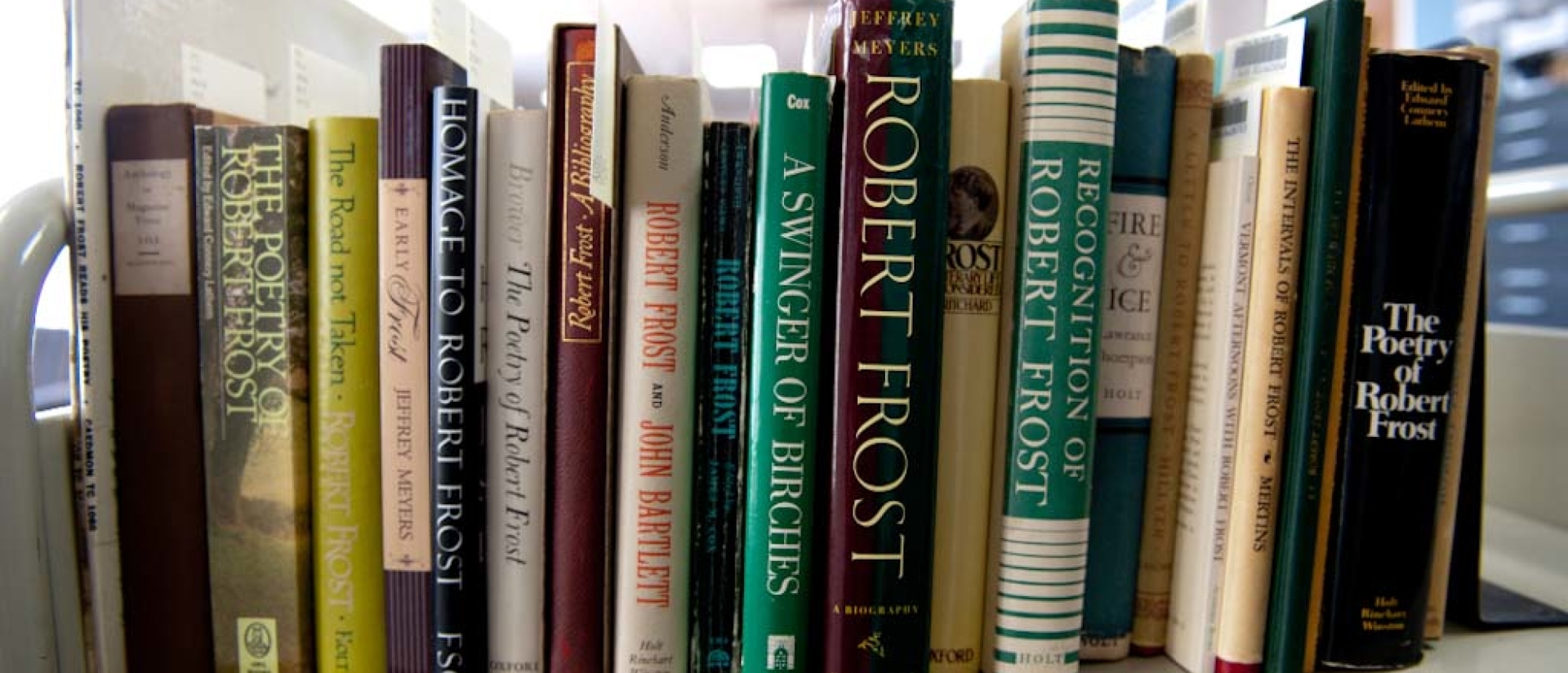 A rare collection of limited editions
The UW-Eau Claire Foundation acquired a rare collection of works by the 20th century American poet Robert Frost, as a combined purchase and gift from Joan Christopherson Schmidt. The Foundation is accepting gifts to support a fund to maintain the collection. The collection contains approximately 44 books authored by Frost, including several that have been signed and inscribed by the poet, dozens of books about Frost, and manuscript materials containing hand-written poetry, Christmas cards and pamphlets.
The Frost Collection was made available to the university by the UW-Eau Claire Foundation through Joan Christopherson Schmidt, the wife of the late Frederick Schmidt, a long-time friend of Frost and Wisconsin native. After his passing in 2005 at age 81, Joan Schmidt felt it was important for her husband's collection to remain intact and stay in Wisconsin, and so, through a series of connections in the area, the collection found a home at UW-Eau Claire. Read the full story of the Frost Collection at UW-Eau Claire.
Frederick and Joan Christopherson Schmidt Robert Frost Celebration of American Poetry
Each year, in celebration of the Frost Collection, UW-Eau Claire hosts the Frederick and Joan Christopherson Schmidt Robert Frost Celebration of American Poetry. The event features individuals from the campus and community who read poems on a selected theme.
Thursday, April 6 | 7:30 p.m.
Schofield Auditorium
The 2023 Frost Celebration of American Poetry is presented as a special event of The Forum series and features Naomi Shihab Nye.
Naomi Shihab Nye describes herself as a "wandering poet." She has spent more than 40 years traveling the country and the world to lead writing workshops and inspiring students of all ages. Nye was born to a Palestinian father and an American mother and grew up in St. Louis, Jerusalem, and San Antonio. Drawing on her Palestinian-American heritage, the cultural diversity of her home in Texas, and her experiences traveling in Asia, Europe, Canada, Mexico, and the Middle East, Nye uses her writing to attest to our shared humanity.
Naomi Shihab Nye is the author and/or editor of more than 30 volumes. Her books of poetry for adults and children include 19 Varieties of Gazelle: Poems of the Middle East (a finalist for the National Book Award) , A Maze Me: Poems for Girls, Red Suitcase, Words Under the Words, Fuel, Transfer, You & Yours (a bestselling poetry book of 2006), Mint Snowball, Voices in the Air: Poems for Listeners, Come with Me: Poems for a Journey, Honeybee (awarded the 2008 Arab American Book Award in the Children's/Young Adult category), The Tiny Journalist (Best Poetry Book from both the Texas Institute of Letters and the Writers League of Texas), Cast Away: Poems for Our Time (one of the Washington Post's best children's books of 2020), and Everything Comes Next: Collected and New Poems. Her collections of essays include Never in a Hurry, and I'll Ask You Three Times, Are you Okay? Tales of Driving and Being Driven. Her fiction books for young people include Habibi, Going Going, There Is No Long Distance Now, and The Turtle of Oman. The Turtle of Oman was chosen a Horn Book Best Book of 2014, a 2015 Notable Children's Book by the American Library Association, and was awarded the 2015 Middle East Book Award for Youth Literature. Her picture books include Baby Radar, Sitti's Secrets, and Famous. She has also edited nine poetry anthologies including I Feel a Little Jumpy Around You, Time You Let Me In, This Same Sky, The Space Between Our Footsteps, and What Have You Lost?. Her new book is The Turtle of Michigan (Greenwillow Books, March 15, 2022) a sequel to The Turtle of Oman.
Naomi Shihab Nye has been a Lannan Fellow, a Guggenheim Fellow, and a Witter Bynner Fellow (Library of Congress). She has received a Lavan Award from the Academy of American Poets, the Isabella Gardner Poetry Award, the Lee Bennett Hopkins Poetry Award, the Paterson Poetry Prize, four Pushcart Prizes, the Robert Creeley Prize, and "The Betty Prize" from Poets House, for service to poetry, and numerous honors for her children's literature, including two Jane Addams Children's Book Awards. In 2011 Nye won the Golden Rose Award given by the New England Poetry Club, the oldest poetry reading series in the country. Her collection 19 Varieties of Gazelle was a finalist for the National Book Award. Her work has been presented on National Public Radio on A Prairie Home Companion and The Writer's Almanac. She has been featured on two PBS poetry specials including "The Language of Life with Bill Moyers" and also appeared on NOW with Bill Moyers. She has been affiliated with The Michener Center for writers at the University of Texas at Austin for 20 years and also poetry editor at The Texas Observer for 20 years. In 2019-2020 she was the editor for New York Times Magazine poems. She is Chancellor Emeritus for the
Academy of American Poets, a laureate of the 2013 NSK Neustadt Award for Children's Literature, and in 2017 the American Library Association presented Naomi Shihab Nye with the 2018 May Hill Arbuthnot Honor Lecture Award. In 2018 the Texas Institute of Letters awarded her the Lon Tinkle Award for Lifetime Achievement. She was named the 2019 - 2021 Young People's Poet Laureate by the Poetry Foundation. In 2020 she was awarded the Ivan Sandrof Award for Lifetime Achievement by the National Book Critics Circle. In 2021 she was voted into the American Academy of Arts and Sciences.
Nye is Professor of Creative Writing - Poetry at Texas State University.

Thanks to the UW-Eau Claire Foundation, English department, McIntyre Library, and Alumni Association for their annual support of this treasured event.