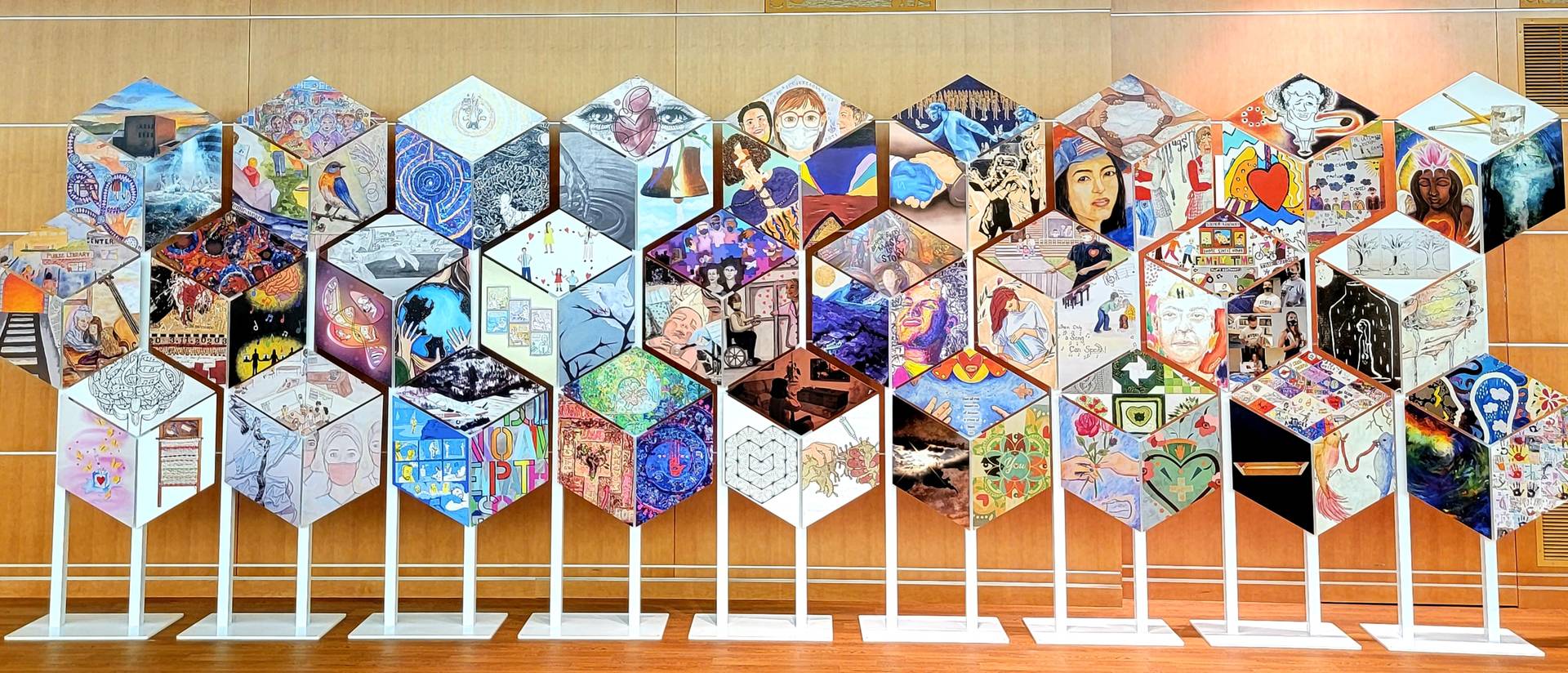 A storytelling collaboration
The Healing Reflections mural focuses on the historic nature of 2020. Those themes are centered on healing, resilience, inclusion, diversity, hope and economic hardship. Thank you to all the story tellers and artists who contributed to this project, which allows healing by gaining insight and understanding to another's experience, and by validating their own experiences.
We invite you to explore and learn more about the artwork, stories, and the humans behind each piece of the UW-Eau Claire selection of the mural below.
The Healing Reflections mural was created in collaboration with Mayo Clinic Health System. More works of art and the stories that inspired them can be found on the Mayo Clinic Connect Blog.
The Pandemic Through Our Dogs' Eyes | Carolyn Otto & Lark Keating-Hadlock

The Pandemic Through Our Dogs' Eyes by artist Lark Keating-Hadlock, M.L.I.S.

Story told by Carolyn Otto, Ph.D.

Monday morning rolled around and after our morning walk and breakfast, Mom said "go to work." That was our cue to lay down on the couch while the parents went to work. However, Mom went to her office room and Dad to the basement. We were confused but happy...

Read more of Dr. Otto's story that inspired The Pandemic Through Our Dogs' Eyes
Making Rent | Kensie Kiesow & Anna Wendorff

Making Rent by artist Anna Wendorff

Story told by Kensie Kiesow

Summertime for a student is for days spent lying on the beach, soaking up as much of that Wisconsin summer sun as you can before winter hits. It's for long road trips to Colorado, the west coast, or maybe just a neat park nearby with pine trees that remind you of Russian spires poking the sky. It's for a break from the constant stress of exams, essays, and grades. And, it's for that summer job...

Read More of Kensie's story that inspired Making Rent
Chippewa River Parallel | Megan Clark & Jill Olm

Chippewa River Parallel by artist Jill Olm, M.F.A.

Story by Megan Clark

On the surface, nothing seemed to change. Days were spent drifting lazily by, with the occasional dark branches stirring ripples in my calm demeanor. But underneath it all was a roiling mass of anxiety, heartache, and fear. I found parallels and companionship in the Chippewa River, which runs through the campus at which I work....

Read More of Megan's story that inspired Chippewa River Parallel
I Hope It's Brighter Over There | Grace Wojkiewicz-Wielgus & Erin Hisey

I Hope It's Brighter Over There by artist Erin Hisey, M.F.A.

Story by Grace Wojkiewicz-Wielgus

Fear permeated everything.

When classes were moved online, I remember being excited. I look back now and wish I could shake myself. I wish I could scream in my face that this is serious, and it is going to affect you, too. You aren't invincible. Look at the lives this is taking...

Read More of Grace's story that inspired I Hope It's Brighter Over There
Emergence of Anomie | Gwenyth Wheat & Anna Wendorff


Emergence of Anomie by artist Amanda Wendorff

Story by Gwenyth Wheat

I tuned into another Skype call, my eyes tired, dry, and aching for light that wasn't blue. Quickly, our group of friends appeared in the video call, each of us secluded to our bedrooms and propped up next to windowsills. My friend asked what life was like outside the walls of her recovery center, outside the walls that shielded her from the daily news, world events, and COVID-19...

Read More of Gwenyth's story that inspired Emergence of Anomie
Finding Joy During COVID-19 | Donna Anders & Amanda Bulger

Finding Joy During COVID-19 by artist Amanda Bulger

Story by Donna Anders

We reserved our daughter's wedding venue in November of 2018 with no idea that the world would be turned upside down. They picked May 2, 2020, the 6th year anniversary of when they started dating. Life seemed normal until December of 2019 when two of our Chinese students from the UW-Eau Claire Host Friends Program talked about the COVID-19 virus back home. We watched the news with lock downs and mask wearing in China...

Read More of Donna's story that inspired Finding Joy During COVID-19
Giving Thanks and The COVID Stage | Jane Becker, Ali Liffrig, Sue Kleush & Amanda Obenhoffer

Artist Amanda Obenhoffer

"Giving Thanks" Story by Jane Becker

I learned to be more thankful in 2020. Thankful my husband and I were able to take our family on a long-awaited, once-in-a-lifetime vacation in January to celebrate a milestone birthday...
Read More of Jane's story that inspired Amanda's graphic art

Healing Reflection Story by Ali Liffrig

When the pandemic began, I thought it would be over quickly. That it would breeze through our lives like a tornado, deadly but brief. This is not a unique sentiment; most people felt the same. I didn't realize over a year of my twenties would be stolen...
Read More of Ali's story that inspired Amanda's graphic art

The COVID Stage by Sue Kleusch

In 1997 we were blessed with a beautiful little boy. Through the years we watched him grow up into a nice young man. We had long spoken to him about the lasting effects of a great education and how his going to college was going to be his gift from us...
Read More of Sue's story that inspired Amanda's graphic art
The Healing Powers of Swimming and Secret Santas | Vicky Thomas & Erin Hisey

The Healing Powers of Swimming and Secret Santas by artist Erin Hisey, M.F.A.

Story by Vicky Thomas, M.Ed., M.S.

Lives changed in March 2020. I celebrated my birthday March 12th and on Friday the 13th, our routines abruptly ended. Many of our favorite healing activities changed – time with friends and swimming for me. Friends stopped gathering and pools closed for swimmers...

Read More of Vicky's story that inspired The Healing Powers of Swimming and Secret Santas
Healing Journals | Madeline Krafcheck & Sierra Lomo

Healing Journals by artist Sierra Lomo, M.F.A.

Story by Madeline Krafcheck

Today I'm thinking about rollerblading. I'm thinking about gliding, soaring a little. I'm thinking of ten miles of pavement. Ten miles of the sun beating on my back, my friends by my side. A man's best friend and my best friend, gliding and soaring. I'm thinking about flying down a hill — the best pavement in town...

Read More of Madeline's story that inspired Healing Journals
The Last Time, Healing Reflection, and Bent Not Broken | Jeremy Janiak, Jan Larson, Colleen Marchwick & Joshua Brown

Artist Jeremy Joshua Brown, Ph.D.

"The Last Time" Story by Jeremy Janiak

Little did I know that January 2020 would be the last time that I would see both of you.The US had just confirmed its first case of COVID, I paid little attention to the news, it would go away, we live in the Midwest where nothing happens...
Read Moreof Jeremy's story that inspired Dr. Brown's art

Healing Reflection by Jan Larson, M.S.

I am standing on the shore. Arms at my sides, hands open, palms facing the sea as gentle swells touch the shore. The horizon shows no hint of the storms to come...
Read More of Jan's story that inspired Dr. Brown's graphic art

Bent Not Broken by Colleen Marchwick, M.A.

"A tree that is unbending, is easily broken." Lao Tzu
This year has been one of intense emotions like a winter storm that blows so that I no longer see, full of snow and ice weighing me down until I was nearly touching the earth...
Read More of Colleen's story that inspired Dr. Brown's art
Peace | Beth Kranz & Lark Keating-Hadlock

Peace by artist Lark Keating-Hadlock, M.L.I.S.

Story by Beth Kranz

How does one become peaceful in a world full of turmoil? How can peace be maintained over a year-long pandemic strain? In March 2020 when the order to stay at home was given, "peace," as I knew it then, ended...

Read More of Beth's story that inspired Peace
A Cure for COVID-19 | Michael Hilger & Sierra Lomo

A Cure for COVID-19 by artist Sierra Lomo, M.F.A.

Story by Michael Hilger, Ph.D.

After earning a PhD, I taught in the UWEC English department for many years ago until I retired quite a few years ago. When COVID-19 hit, I became a hermit and took refuge in TV, mystery novels and listening to popular songs of the 20th century. This kept me safe and allowed me to escape the everyday sad news, but it came with a price...

Read More of Dr. Hilger's story that inspired A Cure for COVID-19
Sketchnote | Jane Strong

Sketchnote by artist and storyteller Jane Strong, M.A.

Sketchnoting is a form of visual thinking that helps me to process my world. As a discipline, it can be both a personal expression and a professional practice. I came upon the concept following my master's degree and spent years studying the science behind doodling, visual communication, visual thinking, cognition, and retention...

Read More of Jane's story that inspired Sketchnote
Bouncing Through Quarantine | BJ Hollars & Jill Olm

Bouncing Through Quarantine by artist Jill Olm, M.F.A.

Story by BJ Hollars, M.F.A.

When life gives you a pandemic, buy a trampoline. Said no one ever. Except my wife, who, a month into the Safer At Home order, decided it was the most expedient way to persuade our children to get a little fresh air...

Read More of BJ's story that inspired Bouncing Through Quarantine
Healing Reflection | Emily Popp & Jill Olm

Healing Reflection by artist Jill Olm, M.F.A.

Story by Emily Popp

I remember the day I knew it was over. I sat on the floor, and I took in the defeat. It started off distant. Far away, it wouldn't affect us. Then it got uncomfortably close. The hand sanitizer bottles scattered about. As if they would help in the long run. I remember my roommate driving away. We didn't know it was for good...

Read More of Emily's story that inspired Jill's art
Hope Is the Thing to Do Right Now | Mickey Crothers & Jane Mohler

Hope Is the Thing to Do Right Now by artist Jane Mohler

Story by Mickey Crothers

Hope is three crumpled dollars you find in a coat pocket when you thought you were flat-broke… then giving those three crumpled dollars to somebody who needs them worse than you do...

Read More of Mickey's story that inspired Hope Is the Thing to Do Right Now
Healing Reflection | Katie Johnson & Sierra Lomo

Healing Reflection by artist Sierra Lomo, M.F.A.

Poem by Katie Johnson

Death was as common as breathing in oxygen, but as painful as trying to breath without it.

A cough equivalent to full lock down. To a bunker six feet under.

A constant flee to nowhere.

Read More of Katie's poem that inspired Sierra's art
Eyes | Kaia Simon & Amanda Bulger

Eyes by artist Amanda Bulger

Story by Kaia Simon, Ph.D.

On our first day back in Fall 2020, teaching and learning in person again, I stood in front of my classroom on the pre-placed dot on the carpet that marked my socially-distanced teacher position. I looked at the Monday group of my Histories and Theories of Rhetoric students, seated in a grid of twelve desks spaced six feet apart...

Read More of Dr. Simon's story that inspired Eyes