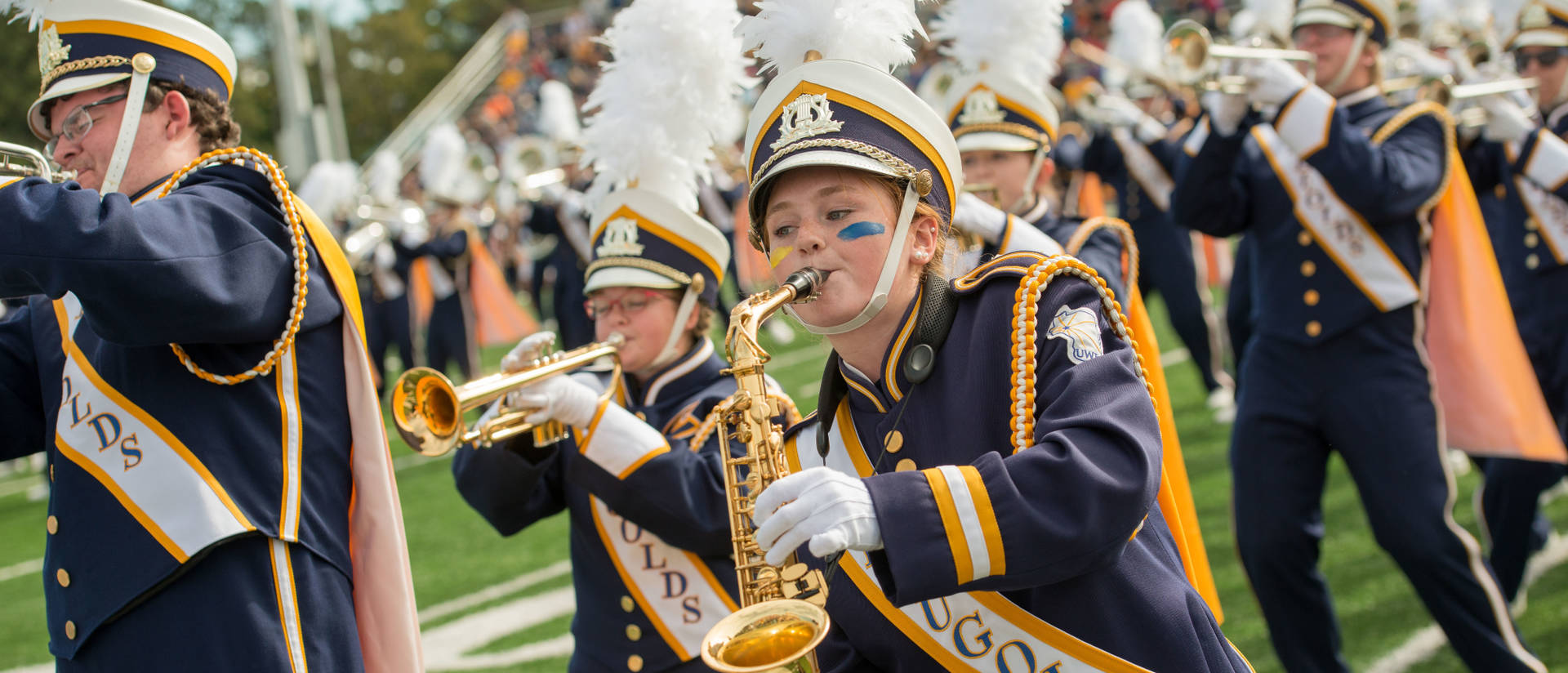 UW-Eau Claire's renowned Blugold Marching Band (BMB) is one of the most active bands in the Upper Midwest. In 2000, the BMB had just 60 members, but their amazing commitment and creativity set the stage for the 400+ students who participate today. Hard work, determination and talent contributed to this success, but it would never have been possible without the generous support of donors to the UW-Eau Claire Foundation.
Gifts in support of the Blugold Marching Band help the band fulfill its commitment to excellence every time they take the field. As the band continues to grow, so do its expenses. The BMB relies on support from alumni and fans to continue marching from year to year. Gifts to the BMB provide support for new instruments, instrument repair, updated uniforms, travel to performances and exhibitions and much more.
Pride AND Performance
The 2015 documentary "Pride AND Performance" follows students Eduardo Rafael Leoncio do Nascimento, a cymbalist, Briar Swann, a baton twirler, and Ben Mackie, a mellophonist, through their first year as members of the Blugold Marching Band.
The students' journey is narrated by band director Randal Dickerson and the band's senior drum majors Nick Hansberry, Kara Metzger and David Lofy. The story follows the three freshmen from band camp to their first on-field performance at Homecoming and to the annual BMB showcase performance at Chippewa Falls High School. It illustrates the commitment and creativity that made the BMB a national leader.
Adopt a Band Member
BMB members are some of the most committed, talented students on campus, but the costs associated with involvement in this unique opportunity are high. At the beginning of each fall's Band Camp, supporters are invited to "adopt" a band member with a gift of $250 to the Blugold Marching Band Advancement Fund. With your gift, you will receive a photo of the band section to which your member belongs, as well as a pair of complementary tickets to the UW-Eau Claire Homecoming game. If making a gift online, please indicate in the comments that you would like to sponsor a band member!
Your gift to the Blugold Marching Band Advancement Fund supports:
New instruments
Instrument repair
Travel expenses (transportation, hotel, etc.)
Housing during Band Camp
Color Guard Equipment (flags, rifles, etc.)
Other needs to keep the band marching!
Contact
If you have questions about the Adopt a Band Member program, contact Nicole Lindberg at 715-836-5189 or lindbenm@uwec.edu.